Wood Floor Repairs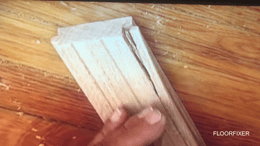 We have a £300 minimum charge for sanding and sealing with a Premium-grade Polyurethane lacquer, or Hardwax Oil finish because transport and labour costs are the same even if the area is only a small entrance hall. We only do repairs when fully refurbishing wood floors so if you just have a small repair job, best advice is to search for a 'Local Handyman' on the Yell.com website. Homeowners often find a timber floor under the lino or old carpet that has been ignored because it has previously been considered to be beyond restoration. However, with the help of an empathetic lover of wooden floors such as Floorfixer, almost all historic timbers can be restored beautifully to become the foundation of an authentic building restoration.

When a wooden floor reaches a certain age it acquires an inherent beauty and value that will merit you investing the cost of restoration and most are certainly worth saving. Late Georgian and Victorian pine floors look beautiful by virtue of their age because the pine imported from the Baltic region throughout the 19th century was from first-growth forests, and has a quality that it is now very difficult to match. Old growth was gathered from much older trees than the timber harvested nowadays, with many areas of forest now protected from being cut down altogether. These older types of wood often show a much tighter grain pattern due to their age and the number of growth rings.

Survey
Before restoration, some floors may need to be repaired, and during the assessment visit, the Floorfixer Surveyor will be looking for any extra work that may be needed to ensure a perfect working surface for enabling us to carry out the sanding and sealing process. Repairs can be quite time-consuming and it's difficult to assess exactly how long each job will take because we may run into unforeseen problems, but with labour costs in mind - our team will endeavour to complete the job as soon as possible for you.

All floorboards are examined and if any fixings are loose, they will need to be secured. Carpet tacks must be removed and protruding nails are either hammered down flat or below the surface. Any damaged boards beyond minor repair will be removed and then replaced using reclaimed timber of the same quality and age wherever possible.

The condition of a wooden floor will depend on many factors, such as:
(1) How much use the floor has received since its installation
(2) Whether the room heating has been carefully regulated
(3) How experienced the wooden flooring installer was
(4) If RH (humidity) in the room has been regularly monitored
(5) Regular maintenance is carried out regularly with compatible products
(6) The subfloor condition and whether a DPM had been installed
(7) What finish was applied to the wood floor surface
(8) How carefully the timber was stored on site prior to laying

From surface damage to structural damage and everything in-between, we've seen it all in towns and villages all over Leicestershire and surrounding counties when it comes to wood floor repair. Over the years we've developed a number of unorthodox techniques and home-made tools to repair wooden floors, and it also takes plenty of good imagination sometimes. We may be able to "patch-up" damage without completely replacing a floorboard, and we may even suggest an alternative solution altogether for rectifying the problem. Whatever the outcome, our surveyor will give you an honest view of what repair-work is achievable and then work out the least expensive method to carry it out.

Creaks & Squeaks
As time goes by, all floorboards may start needing a bit of care and attention. If they've dried-out or worked loose from their fittings, they may start to creak and squeak. Also if they have split, warped, shrunk or actually broken, you may need to replace them completely. Some floorboard damage may have been caused by other tradesmen such as plumbers and electricians who have made very rough saw cuts across the boards to create a small access point in order to reach cables or pipes running underneath. Wider gaps between boards may have been caused by shrinkage, or they may have just been badly fitted in the first place!

There are many examples of how floorboards can become damaged. Heavy objects could have been dropped on them. There may have been long term water damage, dry-rot, lack of ventilation or even an insect infestation such as woodworm. One of the most common problems related to excess moisture is called buckling where the wood flooring gets separated from the subfloor and creates the effect of cupping or swelling. Loose or creaking boards are another common problem, particularly in older buildings, but there is usually a straightforward remedy.

Our experienced wood flooring restoration team have vast experience and knowledge of repairing a diverse array of wood floor types and styles. It is essential that a wood floor repair is carried out in the correct manner, with attention to the exact type of flooring, and an understanding of the original installation method is paramount to ensure the repair is a success. If a wooden floor is improperly patched or nails, screws or adhesives are applied incorrectly - the repair could restrict the movement of the entire floor causing it to fail completely.

Badly damaged or rotted sections of flooring must be removed and replaced with new pieces of wood and the most difficult part (especially with aged wood) is sourcing a new piece to match the existing colour. We sometimes use an original board from a less visible area of the room such as under a sofa, a new board can then be used in the less conspicuous area. The usual wood floorboard repair job involves cutting out a minimum of the affected section and then shaping its replacement before gluing or nailing it into place. Surrounding cracks and gaps are then filled before the sanding and refinishing process.

While there are countless examples of poor repair work to wooden floors, there are few that cannot be resolved with clever craftsmanship. Whole boards, parquet panels and marquetry borders can be replaced with matching wood. Replacement sections can be spliced in, missing components can be reconstructed and bad filling can be easily rectified.

Drill & Fill
Fix-A-Floor is a bonding adhesive which is especially useful for loose parquet or loose wood flooring that sounds hollow when tapped with something hard. It can even be used where under floor heating elements have been installed. The only downside is that this product is definitely not recommended on areas which are exposed to excessive amounts of moisture such as bathrooms.

A few holes are drilled on each side of the floorboard or parquet tile to allow for application with a caulking gun. Weight is then placed on the area whilst the glue is curing and it may seep out of adjacent drill-holes as it travels under the floor. However, although white when first used, the product goes clear when fully cured, so small spillages are hardly noticeable.

The drilled holes can be filled with colour matching filler afterwards to make an almost invisible mend as described on our Gap Filling page. See the video at the bottom of this page showing how to fix a loose or hollow wood floor.

Parquet
The nicest surprise you could ever have when moving into a new home is to discover some beautiful ancient Parquet hiding beneath the carpet! This is especially good news when you consider the massive cost of installing a lovely new parquet floor. If some blocks are damaged, loose or missing the Floorfixer team will be able to make the floor completely intact again.

Many years ago parquet floors were originally fixed down with Bitumen. This black tar is still used in road construction, but no longer allowed to be used as an adhesive inside the house because of potentially toxic fumes. Our workers remove any residue of bitumen from the back of loose blocks by scraping. This is not one of our favourite jobs, but we consider this to be a labour of love because we are able to visualise the eventual outcome and know that our efforts will always be appreciated by the customer.

Sometimes, removing the bitumen glued blocks can make the concrete uneven and an acrylic levelling compound is needed to make the underfloor level. We often find the problem with old parquet floors is not what they are made of, or even how well they have been maintained. The main issue surrounding many of these hidden treasures is what they have been laid on top of. In the old days it was very common for wooden parquet tiles to be laid on nothing more than a concrete base put straight on top of earth or sand without any insulation at all. Apart from being very cold underfoot, this can also create a damp problem, particularly if a covering such as a thick rug has been laid over it.

Parquet floors were designed to 'breathe' and to absorb moisture from the whole surface area. Problems occur when they are covered over with non-breathable matting which has been laid for added warmth. One solution is to take up all the parquet and dig the floor out to a level that will allow for insulation such as a damp proof membrane. A self-levelling compound can then be used to ensure a good base to lay the reclaimed parquet. Of course, digging up the floor is disruptive, but it does allow you to keep the original parquet without any future damp issues to worry about.

So how do you know what's under that old fitted carpet?
There's only one way of finding out - just pull the carpet back by using a pair of pliers to grab a corner section and give it a hard tug. With any luck the carpet will be a stretched-in type of carpet with nails, tacks, staples or carpet grippers holding it in place and not a glued down type. Once all the carpet is removed, the room will open up and give you a better idea of deciding whether you want to cover over the old wood, replace the floor entirely with something new, or give Floorfixer a call to restore it.

| | |
| --- | --- |
| | |