Gap Filling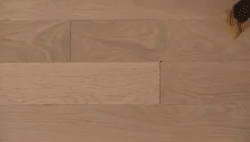 Unsightly gaps due to expansion and contraction in wood flooring can be the cause of energy inefficiency, insect infestation and chilly drafts. Air bricks are built into the wall at ground level in most UK properties to allow constant air movement below the floorboards. If floorboards are not too well attached to the subfloor, it may be possible to lift then slide each board back into place to close the gap. This laborious undertaking could be extremely time-consuming, but may eliminate the need to gap-fill altogether. Parquet tile gaps are easily filled by spreading a paste over the surface with a trowel.There are several methods for filling gaps between floorboards and sealing them effectively. The three most popular options used by the Floorfixer wood floor restoration team (see below) are A using a mixture of clear resin and fine sawdust collected from the final sanding process, B inserting V shaped wood slivers engineered from reclaimed timber, or C inserting a wood coloured non-acrylic filler.

A sawdust and resin mixture is only suitable for gaps less than 5mm as the solution tends to sink if any wider. The mixture is made into a thick putty-like consistency similar to toothpaste and then forced down between gaps with a trowel, spatula or knife during the sanding process. Advantages are that it dries quickly and matches the colour exactly. However, the dried filler can become fragile and then crack with any significant amount of footfall and movement over the floor. We prefer the non-acrylic version of this product because all the dust collected needs to be extremely fine to facilitate satisfactory bonding when using the water-based type.

By far the most resistant and durable method is to fit strips of wedge-shaped wooden laths (known as slivers) which are essentially cut from reclaimed pine by specialist suppliers to the wood flooring trade. The sliver option is done prior to sanding and takes more time for the glue to set between floorboard gaps, but the main advantage of this method is that there is no risk of a strip falling through the gap as it can also rest on joists. Reclaimed slivers always give the most attractive end-result on old pine floors, and are worth the extra expense incurred for labour.

Colour-matching acrylic flexible fillers are simple to use and can be found next to other acrylic fillers, mastics or silicones in most local hardware shops. Our preference is the Osmo Woodfiller which is a non-acryllic and water-based multi-purpose edge-filler, wood putty, crack filler and sanding sealer all-in-one. It can be obtained on-line or from professional wood flooring wholesalers and suppliers to the decorating trade throughout Leicestershire. This product is popular with professionals because it does not necessarily need sanding afterwards like the other filling options, although it can be sanded and finished if so required. The only problem is though, that colour-matching may need plenty of experimentation before a close match to the surrounding wood is created, and this can be quite time-consuming.

Other options include an old favourite invented by the ancient Egyptians called Papier-mache which is made from shredded newspapers soaked in an adhesive such as wallpaper paste. Various insulation and draught-proofing products are available on the market such as a roll of stretchy beading called Draughtex, V shaped plastic called Stop Gap, decorators caulk, expanding spray foam and numerous others. However it is important to remember that most types of draught excluder will not take the application of finish or colouring agent in the same way as bare wood, and they are almost impossible to colour-match.

Many gap-filling methods have been used in the furniture trade by generations of craftsmen and these techniques have been reciprocated over the years by wood floor restorers who have also attempted to match the natural colour of surrounding floorboards. Apart from fine sawdust mixed with wood glue or shellac - finely ground materials like marble, quartz-dust or even corn starch were mixed with a drying oil-binding agent such as linseed oil thinned with turpentine or a similar solvent. The mixture would then be applied with a rag working against the wood-grain whilst forcing the paste into the floorboard gaps.

Linseed oil was also used to soak twisted threads and strings such as Manila rope, boiled natural Hemp cord or Sisal to fill floorboard gaps in bygone days. This method was chosen because the rope remained pliable whilst enabling expansion and contraction of the wood during seasonal changes. However, it soon became clear that linseed oil also attracted dust and grime which made it difficult to keep the floor clean. The technique was borrowed from boat builders and shipwrights who made boat deck planking watertight using a technique called caulking. A scraper and hook cleaned out the seam between planks before a caulking mallet and caulking irons pounded and compressed a cordage material called oakum (tarred hemp) into each seam.

Most cracks, knot-holes and gaps can and should be filled rather than replacing floorboards as this lends more character and generally creates a more natural appearance. Wood floor repairs do not usually match the colour of surrounding boards - even with reclaimed timber. It is much better to try and save as much of an original period floor as possible, all it takes is a little extra care and patience. Minor imperfections can all be part of the history and character of any wooden floor and gap filling is always a worthwhile choice when renovating a period property.



Gap Filling Options