DAMP PROOFING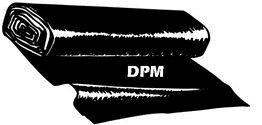 A lack of adequate damp-proofing is the usual cause of warped wooden floors and loose or buckled parquet. Damp-proof membranes (DPM) such as polyethylene, butyl-rubber or bituminous-felt sheeting used in the construction of concrete floors can sometimes be quite thin and easy to tear or puncture even before they are laid, which renders them ineffective. It is mainly because of this that the wood floor restoration team at Floorfixer generally uses a liquid DPM.

Solid concrete subfloors were commonly laid in the 1950s as the post-war restrictions on imported timber lasted for about 10 years. An additional moisture barrier was not usually added in properties built before 1960 and concrete was more than likely laid directly onto a bed of ashes or compacted ground. The ground level under the concrete floor was sometimes lower than the actual ground outside the building, which makes many of these properties prone to flooding and rising damp.

Concrete may look completely dry on the surface, but moisture evaporation from the core is not often visible to the naked eye. A moisture barrier or insulation should be installed underneath concrete to prevent it from absorbing moisture whenever water levels increase. All sub-floors on ground level or below must have protection from rising ground water and whether or not a liquid or sheet type damp proof membrane is chosen, it must comply with UK Building Regulations to be totally effective. A Damp proof membrane is the only safe method of preventing a wooden floor laid directly on top of concrete from water damage.

We regularly renovate parquet floors laid in the 1930s and even carry out parquet repairs on some floors that were set down over 100 years ago. The high cost of these fabulous floors meant that they were usually reserved for hallways and entrance lobbies. Typically ancient floors installed at ground level have loose blocks when we arrive on site, and they need to be re-seated before starting the sanding and sealing process. When the loose blocks are separated from surrounding tiles and carefully raised, it is quite common to find that the concrete subfloor has also become loose and brittle too.

Warning! Some wood floor restoration companies use a PVA sealer prior to pouring a water-based self-levelling compound onto the brittle concrete and then glue the tiles back down with a multi-purpose adhesive. If this is the case, you should expect problems! The same tiles are likely to pop up again within 18 months or so, as they expand through taking on moisture. This dampness can also create a cavity underneath the compound and that can also absorb moisture. PVA or water based SLCs may not be adequate primers as they will allow any moisture to be drawn up by capillary action through the compound which will inevitably blow eventually.

The solution is to hack out all the loose concrete and use a moisture-tolerant self leveling compound together with a rapid drying liquid Damp-Proof Membrane (DPM). An adhesive which is strong enough to keep the wood flooring in place, yet flexible enough to allow for some natural movement is then used to secure the wood flooring. The liquid type of DPM does not trap any moisture within the concrete - it actually lowers the rate of evaporation, which allows the concrete to dry out without affecting a newly laid or restored wood floor.



Services:
Floor Sanding
Beware of Liars!
Wood Floor Restoration
Procedure
Floor Types
Products
Wood Floor Maintenance
Floor Stripping
Wood Floor Polishing
Wood Floor Staining
Parquet Floor Refurbishment
Covering:
Loughborough
Shepshed
Coalville
Hinckley
Market Bosworth
Lutterworth
Ashby de la Zouch
Market Harborough
Oakham
Oadby
Melton Mowbray