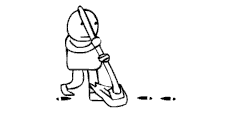 Wood Floor Cleaning Tips
(See the video at foot of page)

Learning how to clean wooden floors is essential for protecting and maintaining your newly finished wood floor which is a major investment that can add value to the look and feel of your home. Since dirt and grime can't hide on a wood floor like it can on a carpet, cleaning your floors may seem "high maintenance". However, once you establish your own routine, the best way to clean wood flooring won't seem so difficult after all. If it is cared for and maintained well, it can last for a very long time.

Which type of finish?
There are some differences in how to maintain a floor depending on what type of finish has been applied. If a water-based lacquer has been used, you can start cleaning with a spray mop within a few days (please refer to notes below), but if a natural hard-wax oil finish has been put on with a professional buffing machine, do not cover the floor straight away with protective sheets or rugs - you must let it breathe. Also, it is best not move heavy furniture around because you could make a deep scratch.

During the first week the Hardwax Oil finish may look blotchy, but this is quite normal and it will even out in a day or two. Freshly applied hard-wax oil takes at least a week to 10 days to fully harden and there are a few simple precautions you should take during this period: Remove dust from the oiled surface with a vacuum cleaner, brush or cloth: do not use impregnated fabrics, but you can use a dry Microfibre Mop without spraying any cleaning fluid.

After the first week
Dirt and marks can be easily removed with a fine spray of cleaning fluid to dampen the Microfibre Mop, but it's important to never to make the floor soaking wet.

Lacquered floors
Floorfixer always use top-quality, hardwearing lacquer which is renowned for letting the true character and grain of the wood shine through and to emphasise its living structure.

When necessary you can walk on the floor wearing socks or slippers after 24 hours (or maybe sooner) after your wooden floors have been refurbished. However, you must avoid walking on the surface with street shoes for at least 2 days. 95% of the curing takes place after 24 hours, but care should be taken for the first week until the floor has fully hardened and cured properly. Light furniture can be replaced during this time - but you must remember to lift and carefully place the furniture back into position and wherever possible use protective felt pads. Avoid dragging any heavy item such as a large sofa, fridge or washing machine which may scratch or damage the floor surface.

Wooden floors are a lifetime investment, and decisions concerning them should not be taken lightly. Everyday dirt and debris and heavy wear can create scratches. Routine maintenance should include protecting the surface finish from moisture. The good news is that lacquered floors are durable and easy to keep clean, and ease of maintenance is one of the main reasons this type of finish is chosen.

A lacquered wooden floor just needs regular sweeping and/or vacuuming to remove dirt and grit. If the floor is really dirty, a damp mop moistened with some well diluted washing-up liquid to remove any grease is all you will need. Ensure that the floor is only dampened slightly though, and that the film of water formed dries within a minute or so because water is a lacquered floors worst enemy!

Do not leave any spillages on your floor, particularly if your wood floor is made from beech or hard maple, as these wood species are particularly sensitive to moisture. Also - avoid revolving vacuum cleaner brushes which will leave scratches on the surface. Specialist products available to the trade can be used to maintain the finish and Floorfixer can obtain these for you if you wish. We also offer a regular Protective Maintenance Service for larger areas such as a School or Village Halls and Sports Floors - details on request.

Stain removal
If you end up with a stain on your floor, you can try removing it using a mild detergent (not containing ammonia), or you could try some washing-up liquid dissolved in warm water. If this doesn't help, here are a few tips on how to remove difficult marks. But take care when using strong stain-removers, as using too much, or rubbing too hard may affect the lacquer.

Mark - Asphalt, rubber oil, shoe polish, soot and dried residues of chocolate or grease.
Remove - Dilute with alcohol, petroleum ether or similar.

Mark - Wax crayon, lipstick, felt-tip pens.
Remove - Dilute with alcohol

Mark - Candle wax, chewing gum.
Remove - Freeze spray, or put a plastic bag of ice-cubes on the mark. Then scrape off carefully.

Things to bear in mind with lacquered flooring
Ideally, use sizeable doormats (longer the better) both inside and outside external doors to prevent dirt and grit being walked in as these abrasive materials can cause considerable wear to a lacquered wooden floor. It is best to avoid using rubber or vinyl mats and rugs in high traffic areas such as entrances and hallways. Protective rugs and mats must be made of a breathable material to prevent moisture entrapment.

Place protective pads under your furniture to prevent unnecessary marks and scratches. Never place plants directly on a wood floor even if they are in a waterproof saucer. Always use trivets or short stands under the pot and saucer so that air can circulate underneath. This will prevent condensation on the saucer from damaging the floor. It will also be easier to see if the plant is over watered or if any water has spilled onto the floor. Wood flooring expands and contracts depending on the ambient climate. To prevent movement and damage to the floor, avoid exposing your floor to temperatures above normal room temperature. The relative humidity should be kept between 30 and 60%. Some wood species - such as beech and hard maple, are more sensitive to climatic variations than others.

In rooms where any liquid is often spilt, and where it may also be left on the floor, Floorfixer recommends that an additional coat of lacquer is applied. This seals the joints between the boards and gives better protection against any spilled liquids so the expense of an extra coat may be worth considering.

A floor can be walked on, carefully, approx. 8 to 10 hours after lacquering. Rugs and carpets can be laid on the floor a week after lacquering. Be careful not to spill water on the newly lacquered surface especially during the first week, as this can cause permanent stains.

High heels concentrate a person's weight on a small point - a 125lb person = approximately 2,000lbs per inch when taking a normal step. This kind of force can damage many types of flooring, and indeed can fracture ceramic tiles and perforate vinyl, as well as denting and scratching wooden floors. While high heels in good repair may not damage wood flooring, we would certainly recommend a 'no high heel policy' - even if this means "spoiling the last bit of enjoyment for men sharing the office!" (Quoted by a Floorfixer customer)

Be careful when using hairspray and furniture polish aerosol sprays because either of these products can cloud your floor's finish. If you do suspect this has happened accidentally, wipe up immediately using a damp cloth.

Due to the fact that hard wax oil soaks into a wooden floor, once this product has been applied it is not possible to change the floor coating to a polyurethane one without harsh sanding again.

Dusting
Particle debris like dust can scratch and damage a floor's protective finish. To make matters worse, dust can be a health hazard for those with allergies. While there is no such thing as a 100% dust-free home, there are many things that can be done to minimise dust and keep our floors looking beautiful. Learning how to dust wood floors takes minimal time and effort, but the rewards are great.

The difficulty of cleaning dust from wood flooring will depend on the tools you have to get the job done. While there are many different devices and tools that can help dust your wood floor, the top three are vacuums, brooms and microfibre mops. Within each category there are many different types and variations, but here are some general considerations for each:

Vacuum
A vacuum can be a great multi-use appliance that can help when you want an easy way to dust your wood floor. Attachments can help you reach places that other traditional tools can't, and some vacuums are designed to work specifically on wood floors. When using a vacuum, be aware that most vacuums have a bare-floor setting that raises the beater bar to a safe level above your floors. Check to make sure the beater bar is as far away from your floors as possible!

Brushing
While brooms may seem like a primitive cleaning tool, there is as much variation in brush types and functions as there is in all the various vacuum machines. There are brooms specially formulated for cleaning floors, but a concern about using a brush is that it will only push debris around on the floor without an effective way to get rid of it.

Microfibre Mops & Dusters
Microfibre mop pads are made with synthetic materials specifically designed to attract and trap dust particles, making them the most effective product in the battle for keeping wood flooring dust-free. Microfibre mops provide less strain on the body because of their lightweight nature, and most microfibre cleaning pads are washable, giving them an extra money-saving benefit. The best way to clean wood floors may include one or all of the previously mentioned tools. Most people like to sweep or vacuum first and then go over with a microfibre spray mop.

Frequency of Routine Cleaning
You should clean light-traffic floors once a week and every day on very high-traffic areas. Giving your floors a good dusting with a microfibre mop or cloth will be your best daily defence against scratches and surface damage. Machine washable microfibre cleaning pads use an electrostatic action. The static electricity it produces will attract and then trap dirt, micro-particles and common household allergens. Brushing can be effective also, but using a broom only pushes the dirt around.

When you want to clean your floors without damaging them, avoid lifting your microfibre mop up off the floor when you clean - this way you keep the dirt trapped on the pad. Also, when wiping with a damp microfibre mop, its best to work on one area at a time. The mop should always be well wrung out if necessary to avoid getting the wood too wet.

Weekly maintenance will deal with the harder to reach areas that a daily dusting can't reach. Vacuums and microfibre mops are ideal for getting dirt out of trouble areas like corners and the spaces between furniture. However, as previously mentioned above, extra caution should be made when using a vacuum to clean a wooden floor because it could cause some damage if put on the wrong setting. If your vacuum has a revolving beater or brush, make sure it doesn't touch the floor as it is turning. Also, be aware that the wheels on a vacuum might damage the floor.

When you're using a mop you must remember that water and wood don't mix, so avoid putting excess liquid on your floor. Lightly misting your floor with wood floor cleaning fluid will be enough to give it a great clean. A gentle touch is the best advice for cleaning your beautiful wooden floor.

Method
Divide the room up mentally into sections for best efficiency. Breaking up the room in a sort of grid pattern can also help you keep track of the work you've done.

Use long, deliberate movements to better maximise your energy and cleaning effectiveness.

Avoid lazy dusting habits and put 100% effort into the task. Hard to reach areas are perfect places for dust to accumulate, so don't just dust around the furniture and other appliances, but instead actually take the time to remove things first, even though this may seem to be making the job a bit more difficult. .

Regularly changing your vacuum filters will help keep the appliance working at an optimal level while also decreasing the presence of dust in the air.

Other Considerations
Here are some extra tips that will lead you on the best way to clean wood flooring:

A good-quality doormat placed outside the entrance to the home will retain dust and grit.

Wipe up any water or other liquids spillages immediately - and take care with flower pots.

Stick felt pads under the legs of all furniture. Also - avoid dragging when moving furniture.

Vacuum or sweep regularly to collect any dust and fluff.

Trim pets' claws to keep your best friend from scratching the floors.

Place mats or rugs at entryways or other high traffic areas but make sure the protective coverings you use are designed for wood floors. Some rubber-backed mats can trap moisture, damaging floors in the process.

Traffic Concerns.
As you come up with your maintenance routine, remember that the overall use of your floors will dictate how often you need to clean. High-traffic areas may need to be mopped or polished more often, while less-frequented floors can go a bit longer between more intense cleanings.

Finding the best way to clean hardwood floors will take some time and patience, but with the right tools and techniques, you'll be able to keep your floors looking their best. Remember that the time you spend maintaining your floors pales in comparison to how much time you'll spend enjoying your floors.

Regular Hardwax Oil Maintenance
After ensuring the waxed-oiled floor is clean and completely dust free, a maintenance solution can be applied with a lint-free flat mop or lambswool applicator. For high traffic areas mechanical cleaning is more effective, faster and easier to apply one coat of Maintenance Oil using a machine - either a polishing machine with revolving brushes or a professional buffing machine fitted with a beige pad. Most brands of Maintenance Oil are compatible, but the best advice is to acquire some made by the same manufacturer as the hardwax oil that was originally applied.

Repairing a small area
One of the greatest benefits of finishing a wood floor with hard-wax oil is that damage (cigarette burns, impact damage or light scratches etc.) can easily be repaired. Just rub, lightly abrade to remove the damage using an old dish-washing scouring pad, and then re-apply a thin coat of hard-wax oil with a clean lint-free rag in a circular motion.

Important: Hardwax Oil must be fully hardened before carrying out any renovation treatment.

Warning
Avoid using water and vinegar, soap-based cleaners, wax or steam cleaners on your wood floors. Vinegar and water actually dull the floor's finish over time, while soap and wax leave residue. Steam cleaners put heat and excessive water on your floor, which can lead to cupping and long-term damage.